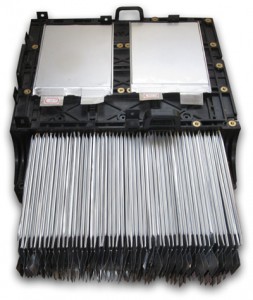 Matergenics offers battery testing and characterization services for all battery types (e.g. lithium-ion, nickel-metal hydride, and lead-acid) to ensure the highest levels of energy efficiency, quality, reliability and safety. Our battery testing services include:

Qualification testing: verifying battery manufacturer's specifications, internal resistance, open circuit voltage (OCV), impedance and conductance testing, state-of-charge (SOC), state-of-health (SOH)
Performance testing: assessing battery efficiency through custom-designed tests as per customer requirements under various climatic conditions and duty cycles
Life cycle testing: cycle and calendar life testing
Environmental and thermal testing: Performing calorimetry, thermal imaging, and temperature and humidity cycling tests
Applicable standards: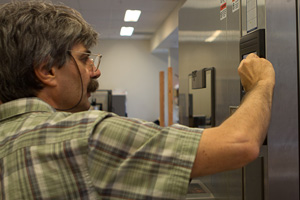 DOE/ID-11069
DOE/ID-11070
IEC 62660-1/2
IEC 62133
IEC 62281
ISO 12405-1
ISO 12405-2
SAE J2288
SAE J2464
SAND 99-0497
SBA S1101
Our state-of-the-art battery test station performs safety monitoring, data collection and performance evaluation and features: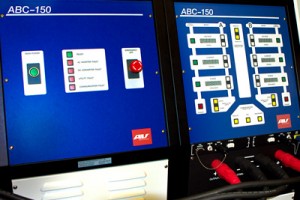 Power Processing and Power Cycling Unit: AeroVironment ABC-150 dual channel DC power cycling station (voltage: up to 420VDC, current: up to +/-530 A, power: up to 125 kW) to provide the charger and the load
Data Collection and Monitoring System
Calorimeter (cross link): accelerated rate calorimeter to measure the heat capacity of a cell or battery pack and the heat generated by chemical reactions inside the battery
Environmental Chamber (cross link): to simulate various thermal and environmental conditions
Infrared camera: for capturing thermographic images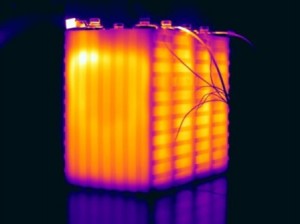 We are expert in numerical and analytical analysis to provide detailed feedback and predict battery system performance. Our analysis tools include: ANSYS, COMSOL and other computational packages to design and optimize the product.