A significant amount of financial loss is incurred every year as a result of premature failure of protective paints and coatings. The cost to repair such failures far outweighs the initial cost of painting due to the extreme cost and liability associated with excessive rigging and downtime to correct the problem.
The majority of paint and coating-related failures can be attributed to following causes:
Improper surface preparation – the substrate surface is not adequately prepared for the coating that is to be applied. This may include cleaning, chemical pretreatment or surface profile.
Improper coating selection – either the paint or coating selected is not suitable for the intended service environment, or it is not compatible with the substrate surface.
Improper application – this can be a problem with either shop-applied or field applied coatings, and occurs when the required specifications or parameters for the application are not met.
Improper paint formulation,  drying, curing and over coating times –this problem relates to a lack of conformance to the required specifications or parameters.
Lack of protection against water and aqueous systems – this is a particularly serious problem with aqueous systems containing corrosive compounds such as chlorides.
Mechanical damage – which results from improper transport, handling of the painted or coated substrate, resulting in a breach in the paint or coating.

Matergenics's Coatings and Analytical Chemistry Division can resolve coating failures through techniques such as: infrared spectroscopy(FTIR); scanning electron microscopy/energy dispersive x-ray spectroscopy; light microscopy; electrochemical impedance spectroscopy(EIS); chromatography; thermal analysis and wet bench testing. Matergenics performs a wide array of standard ASTM, SSPC and NACE test procedures.
Our Paints and Coatings services include:
Paint and Coating Testing and Analysis,
Field Investigations
Technical Audit of Painting Process and Production Facilities
Paint Analysis, Chip Analysis and Evaluation
Accelerated Testing
Physical and Chemical Paint Exposure Tests: ASTM D1308. ASTM 3359, ASTM 4541, ASTM D4060
Salt Spray (ASTM B117) Testing, Cyclic Tests (ASTM G 85), QUV (ASTM G53), Humidity (ASTM D4585), Prohesion (ASTM D5894) ASTM Tests
Fourier Transform Infrared Spectroscopy (FTIR) Analysis of Paints
Visible Spectroscopy, Chromatography
Coatings and Cathodic Protection Studies
Scanning Electron Microscopy & EDS Analysis of Paints
Physical Testing of Paints: Tensile and Flexural Testing ASTM D 638 & ASTM D790
Characterization and Cross Section Microscopy of paint samples collected from project site.
Failure Analysis Root Cause Determination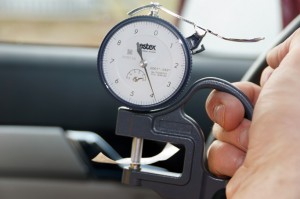 In paint failure analysis investigations, our NACE/SSPC certified Coating Specialists will keep you informed of results as they become available. Each failure analysis investigation will include a formal report containing the description of the defect, review of the application and exposure conditions, laboratory analysis to check against specifications, on-site and analytical test results, factors influencing the paint failure, identification of failure mechanism and root cause, related problems, and corrective actions if requested.